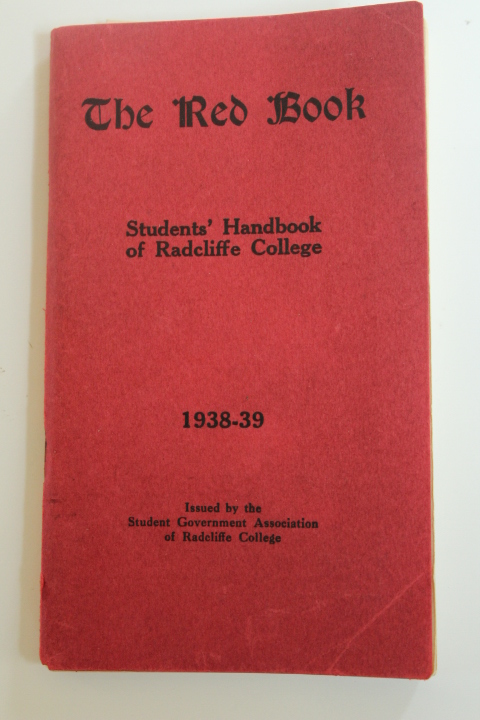 We were intrigued by a recent purchase, "The Red Book," a Students' Handbook of Radcliffe College from 1938-1939. The books contains many useful items for the Radcliffe student. Among the most interesting were the "Customs and Rules" among which were:
Students are not permitted to have beverages of alcoholic content anywhere on the college premises. House mistresses are to be in charge of such beverages which girls living in the dormitories bring to the college for medicinal purposes
There shall be no smoking in the college except in specified places. Smoking rooms are provided in the basement of Agassiz House, and on the third floor terrace of Longfellow Hall. Students are requested not to smoke on the streets of Cambridge or on the steps or grounds of any Harvard building.
On all occasions one rises when the President or Dean enters.
Just before Christmas recess the entire college assembles at a supper in Agassiz House which is one of the most festive occasions of the year. After supper everyone goes to the Christmas carols in the Harvard Memorial Church.
After midyears, the Student Government Associations acts as hostess at a series of departmental teas given by the college in the Living Room to which the professors and their wives are invited. The Dean is hostess at the first tea of the series.
We had always thought that drinking alcohol for "medicinal purposes" was a joke, but clearly not. How interesting. It is also so quaint that there were tea parties and Christmas carols, and also how polite a society it was to rise when the President or Dean enters. Quite a difference from our less than stellar manners today.
The Red Book also lists all the clubs on campus, which included a Menorah Society to emphasize the cultural, religious and social elements of Judaism. But also an Avukah Club, which was the student Zionist Organization which "coordinates an intellectual study of Zionism, together with actual participation in Zionist life, coming as close as we possibly can to those in Palestine." This was obviously before the creation of Israel in 1948.