We are always on the lookout for interesting collegiate memorabilia and recently stumbled across one that really caught our eye. It was a song book from 1913 issued for a "Reception and Smoker," to honor Woodrow Wilson, former president of Princeton University who was just elected as President of the United States.
What exactly is a smoker? In our modern world, it is a device that smokes meat to make great barbecue. In olden times in was an event where people from various schools or colleges would get together and sing songs, listen to speeches and smoke. The dress code was likely formal attire based on our research. The Australian's have long had a tradition called a smoke social, an event in which men gathered to smoke and have a meeting; the event was often accompanied by a musical revue. The college smoker seems to be patterned after that.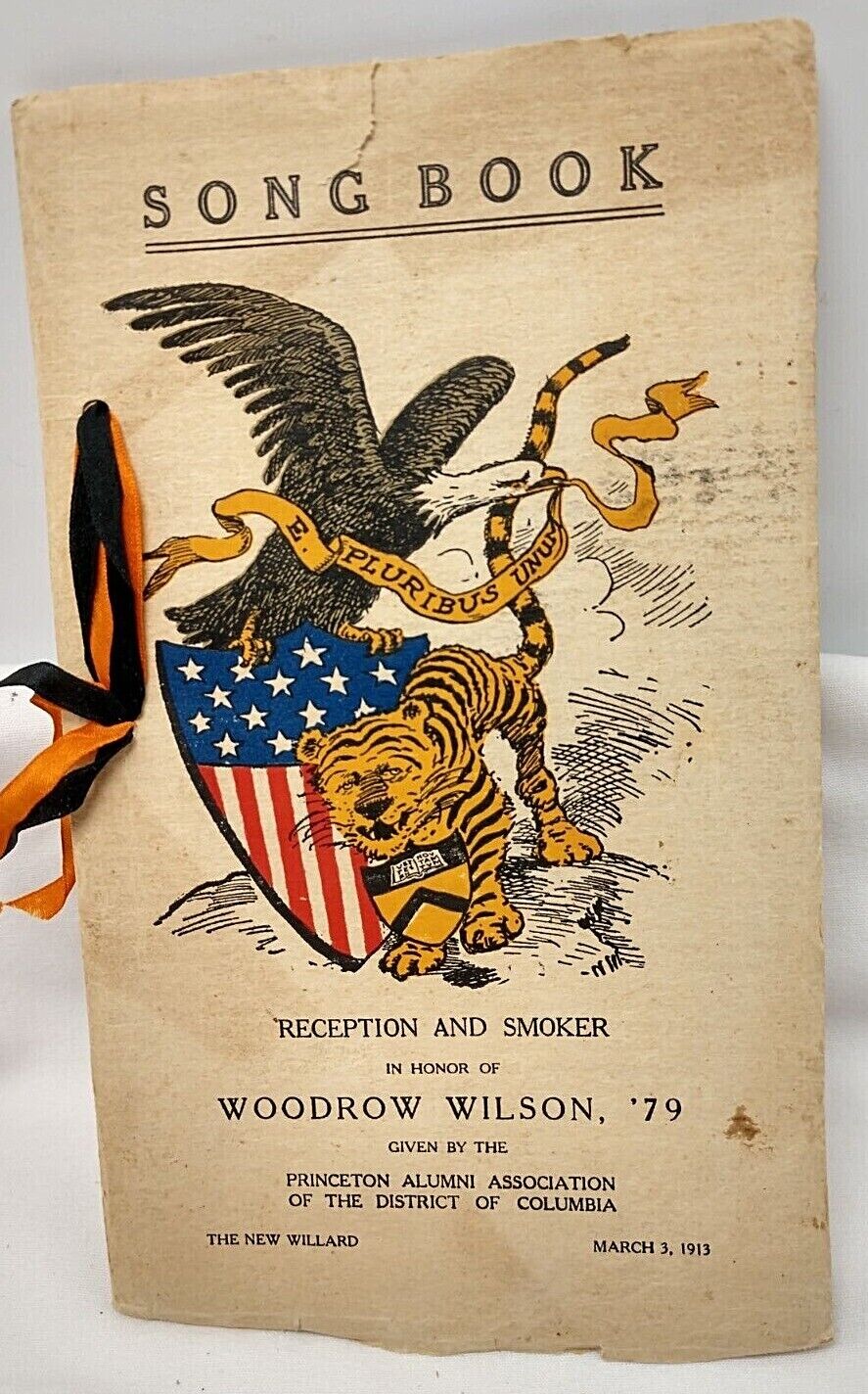 The event for Woodrow Wilson was held at the Willard Hotel in Washington, D.C. The program refers to it as the "New Willard," because a much larger and more modern Willard Hotel was completed in 1904, replacing a smaller, earlier version. The event was held by the Princeton Alumni of the District of Columbia on March 3, 1913. Wilson was inaugurated as the 28th President the following day. Holding the event at the Willard is a pretty strong suggestion that the event was formal, as is the fancy ribbon tied program.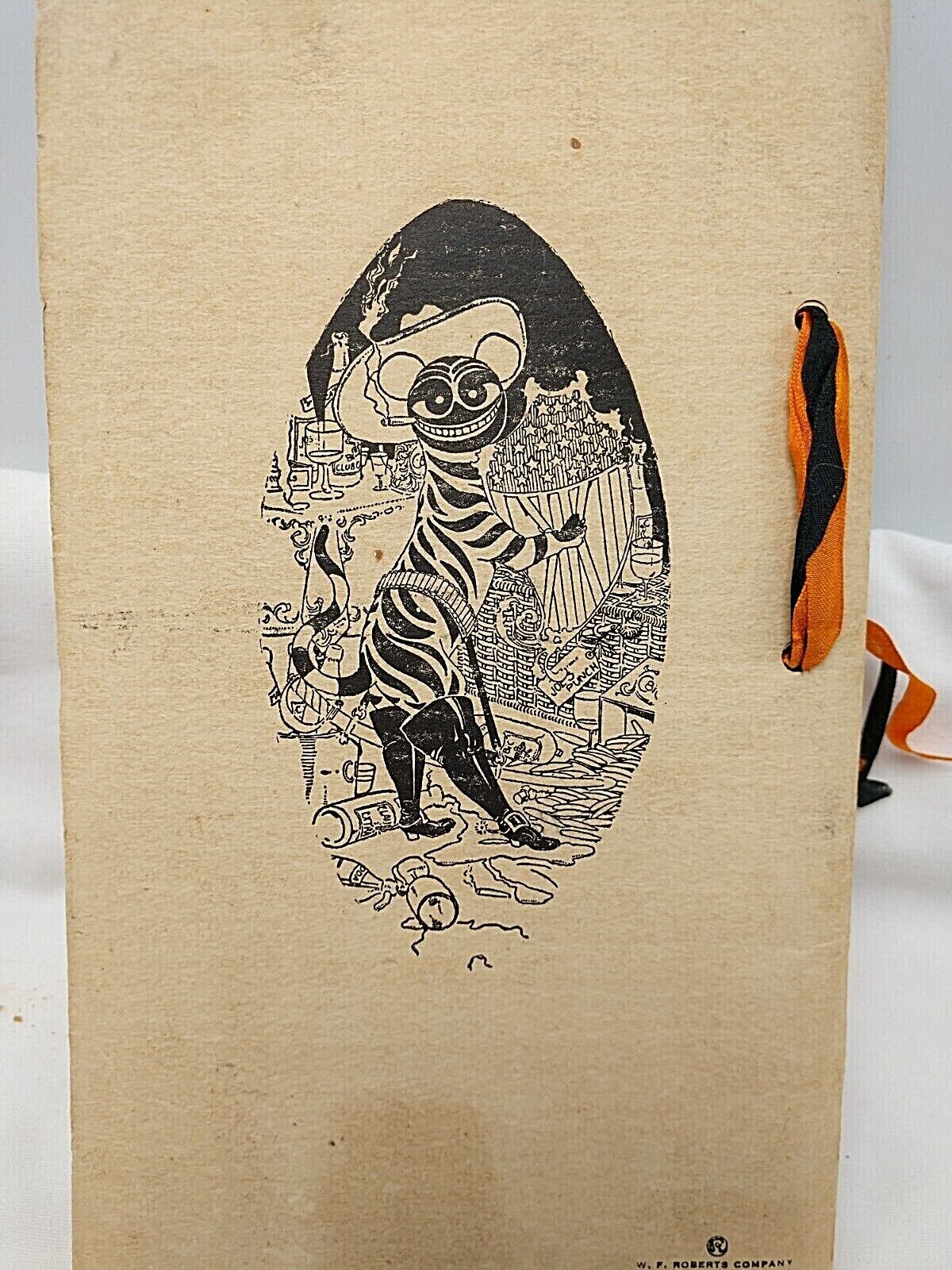 The back cover of the smoker program features a tiger wearing a sombrero surrounded by a post-party scene with bottles and glass strewn all over the floor. The program was indeed heavy on singing and the booklet contains all the songs so that participants could sign along.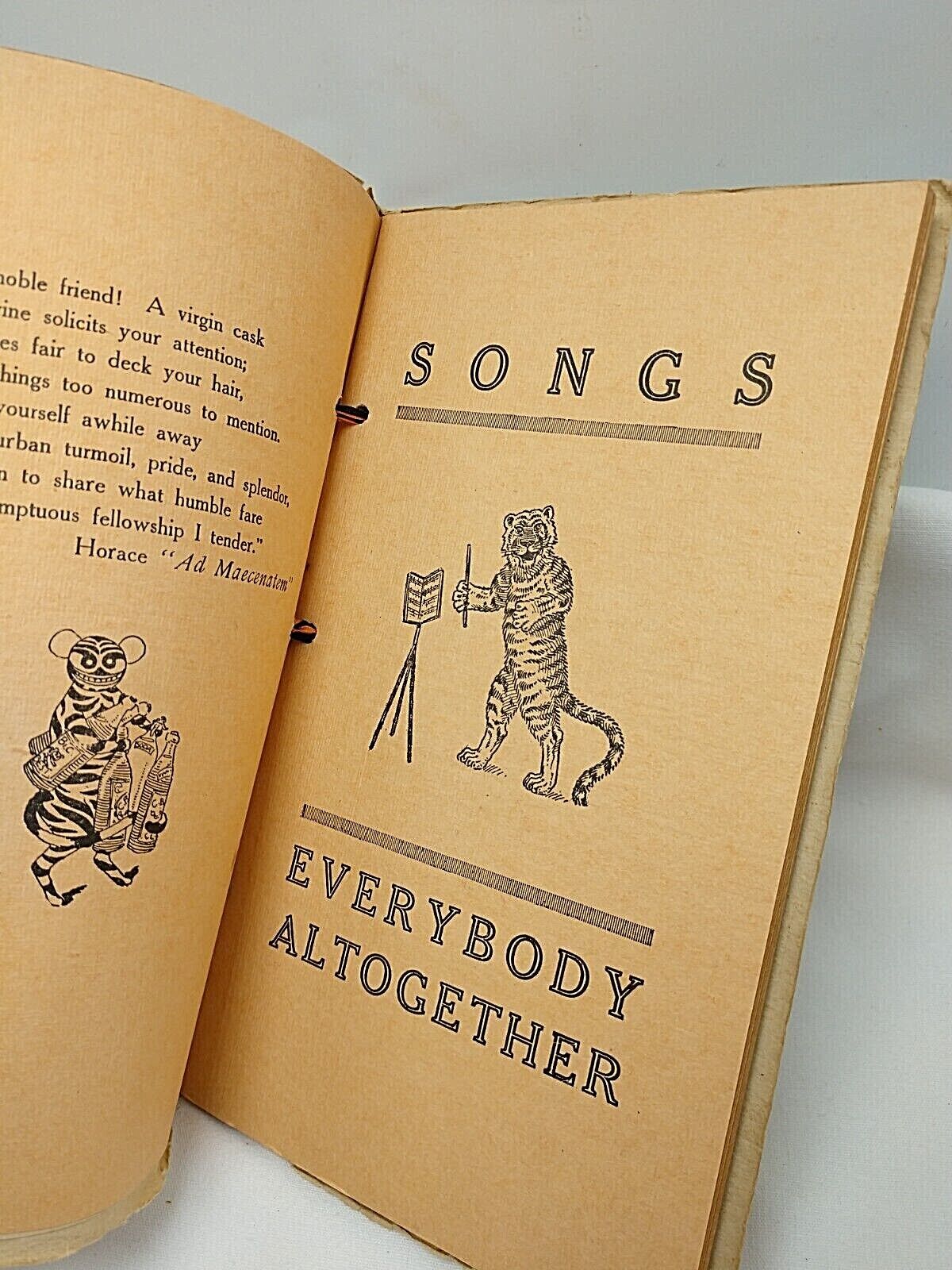 Princeton students and alumni were not the only ones who held smokers. Around this same time period, Cornell University held a Junior Smoker event (1912) and their university archives contain many smoker programs in the early 20th from century. The Marist College archives contain an image of the Cornell 1926 smoker program, pictured below.

Colgate University also held a "Smoker-Reception," in 1926. The school's archives also contain smoker programs titled "Annual Smoker and Varsity C Banquet programs," from 1911-1921. A 1903 Cornell smoker program gives more clues as to what was involved in "smokers."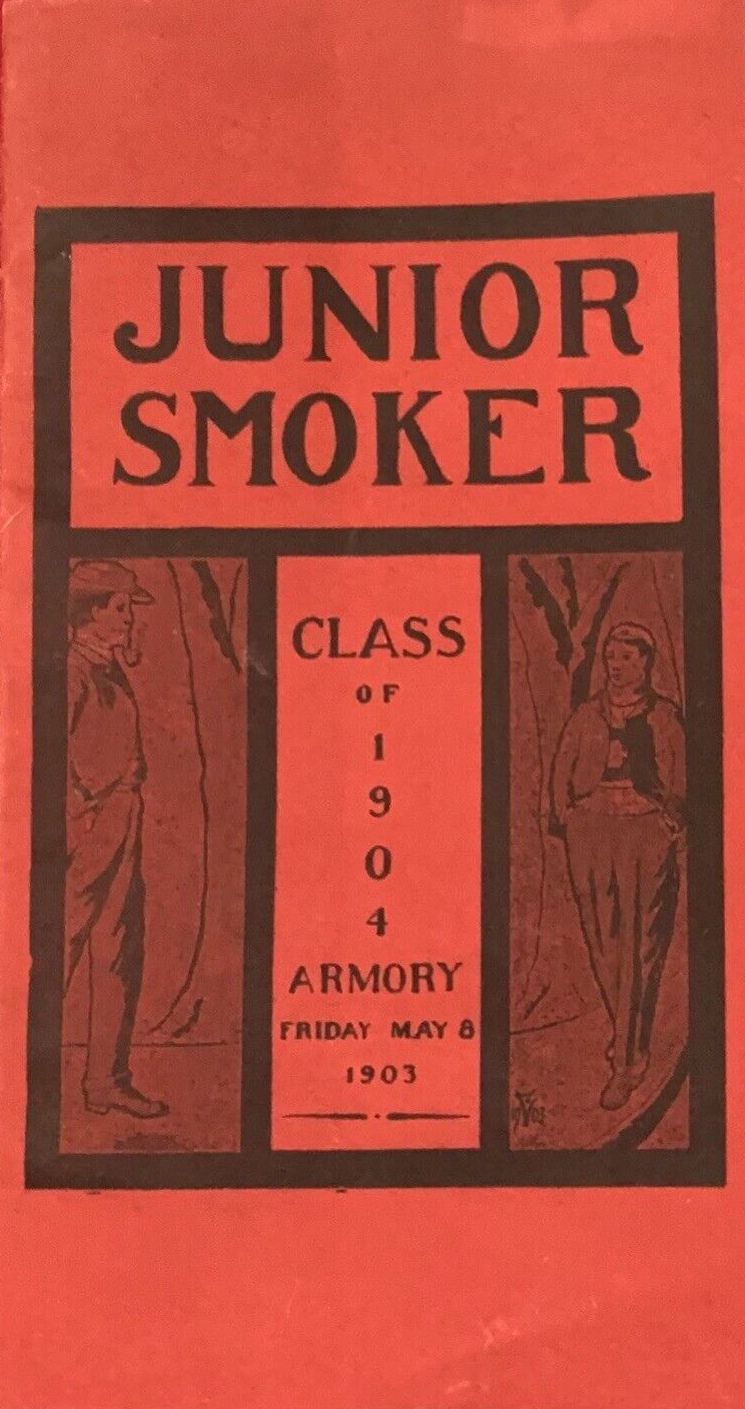 The program includes music from the Mandolin Club, a stunt, a fencing bout, an address and an evening song, among other events. The event was held at the Lyceum Theatre in Ithaca. Cornell used their smoker events to give out letters to varsity athletes.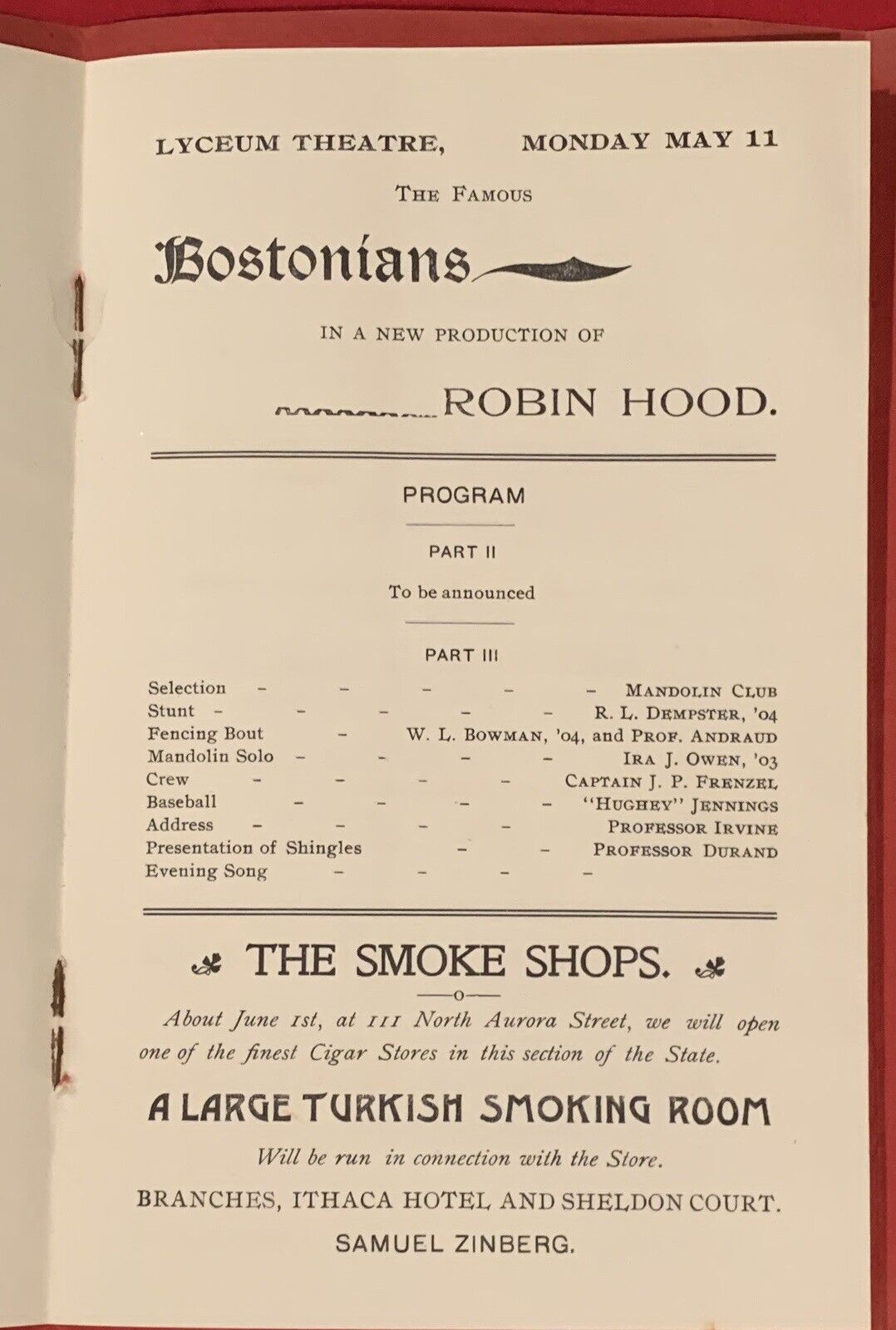 An article in the Cornell Daily Sun from March 10, 1910 gives details about an upcoming Sophomore Smoker. The event included a series of new comics and then group singing of school songs. The event was held at the Dutch Kitchen and the paper said that anyone who attended the event would receive, "A stunt pipe, a box of Pall Mall cigarettes, a can of Imperial Cut Cube tobacco, a tobacco pouch, a souvenir poster and program." Based on this description it seems possible that smokers were sponsored by tobacco companies as a way to induce young men to take up the popular habit? We also found references to other smokers where free tobacco and paraphernalia were given out, including corn cob pipes.
Smokers appear to have been a common phenomenon across the country and not just in the Northeast. We found evidence of a Junior Smoker event at Syracuse in 1908, at the University of Illinois Urbana in 1896, at Harvard in 1917, Trinity College in 1914, the University of Colorado at Boulder in 1913, and MIT in 1918. The announcement for the MIT event, appearing in the school newspaper, The Tech, notes that "smoking materials will be supplied."
The Williams College website provides great insight into their school's smokers, "Beginning somewhere around 1908 and ending about 1923, College Smokers became a favorite tradition on campus. Each year, a smoker prepared and performed by members of each class took place. In addition, smaller Smokers would be held each year by such groups as the junior and senior classes, and possibly other college organizations. Students greatly anticipated the yearly programs, and after the performances, they would receive review and sometimes criticism for weeks afterwards. Held in Jesup Hall, the Smoker program usually offered an assortment of performed entertainments, a menu of food and dessert, and trays of cigarettes. If a student was lucky, he could sometimes get his hands on one of the cigars, usually reserved for the faculty. The various entertainments normally included a play, songs, and short sketches considered at the time to be humorous and fun. The entertainment normally made use of vulgar and offensive humor."
One can imagine how thick with smoke these events were, with sometimes hundreds of students in a confined space smoking. Good for the students' health it was not.
Sometimes smokers would turn into a bacchanal. A City College of New York Sophomore Smoker in 1930 went out of control when 400-500 students went on a rampage and invaded the Rivoli Theater. 47 students were arrested and put into patrol wagons and carted off to jail. In the 1930s members of the Sophomore Class at N.Y.U. would kidnap the class president on the eve of their annual smoker and hold him hostage until the event. Columbia University students had a similar tradition, holding several freshman students hostage prior to their Sophomore smoker. In one particularly nasty incident in 1905 one of the Freshman broke free from captivity and hit one of his hostage takers with a crow-bar, breaking a rib.
Although primarily a ritual for you men, Barnard College in New York held smokers for women, who apparently either didn't like to smoke or it wasn't something a refined female did in that era. The New York Times recounts a Barnard College smoker held in 1910 with chocolate cigars and cigarettes.